News
Patterson Law's esteemed Family Law Group welcomes new lawyer, Sydney Hull.
Published July 11, 2022
Family Law Lawyer, Sydney Hull, will be adding another passionate heart and a bright mind to Patterson Law's Family Law Group, effective July 11th, 2022.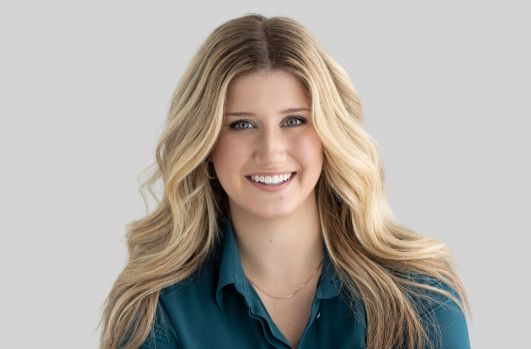 Sydney will practice from the firm's Hollis St. location in downtown Halifax, where she will be adding her sound judgment and practical guidance to the firm's team of strong and skilled litigators.
"Patterson boasts an incredible roster of accomplished lawyers and professionals. At the same time, the firm is also dedicated to supporting community initiatives," says Sydney, "I am excited to collaborate with my new colleagues and contribute to Patterson Law's objectives as a legal professional and an individual."
Born and raised in Cole Harbour, Sydney completed her undergraduate degree at Saint Mary's University in Halifax as class valedictorian with an Honours Bachelor of Arts in political science. Sydney then attended the Schulich School of Law at Dalhousie University, where she received several scholarships, including a Schulich Scholarship for academic achievement and community involvement, Clifford Rae Achievement Awards for being among the top academically ranked Atlantic Canadian students, and the 2020 Nova Scotia Barristers' Society Presidents' Leadership Award. Sydney is an active member of the Canadian Bar Association's Nova Scotia Branch and acts as Secretary for the Family Law Section of the Canadian Bar Association- Nova Scotia Branch. She currently sits on their sexual harassment working group, which aims to decrease sexual harassment in legal workplaces through awareness and bystander intervention.
"Family Law demands a fully invested lawyer, and Sydney's academic achievements alongside her continued pursuit of excellence while practicing law showcase this perfectly," says Co-Managing Partner Kate Harris, "It is no question that Sydney has both the knowledge and commitment to excel here at the firm where we are thrilled to be able to foster Sydney's abilities and are looking forward to having her join our team."
"Patterson Law is an excellent firm, and I expect many aspects will benefit me as a legal professional," says Sydney, "I am looking forward to the mentorship opportunities at the firm and learning from my new colleagues. I cannot wait to get started!"
Patterson Law welcomes Sydney Hull to the firm.